Have you ever tried to use garlic oil for hair growth? Yes, you read that right! This mighty herb contains naturally occurring stimulants that work to stimulate the scalp and promote hair growth.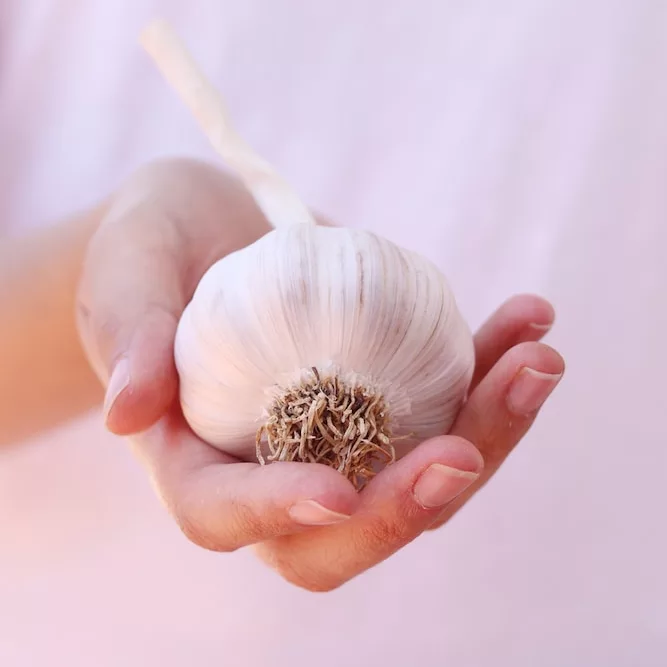 As a member of the allium family, garlic shares a natural lineage with onions and shallots, but it has so much more to contribute to our lives than just a bold boost of flavor. It's widely believed to have beneficial medicinal properties that can be used to treat a variety of ailments. Eating garlic can protect against the common cold, lower blood pressure and cholesterol levels, and even reduce the likelihood of developing dementia.
Some research suggests that the sulfur compounds in garlic may prevent or slow the growth of cancer cells. Furthermore, the antioxidants in garlic may counteract the degenerative effects of free radicals. Garlic's antioxidants and sulfur are good for strengthening the hair shaft. In short, it helps in hair regrowth and also strengthens the existing hair.
What Are The Benefits of Using Garlic Oil For Hair Growth? Does it Actually Work?
Protects against scalp infections and dandruff.
Garlic's antifungal and antibacterial properties can help fight the bacteria and fungi that cause dandruff and other scalp problems.
Garlic's vitamin B6, potassium, and iron content means healthier, shinier hair. It also helps cleanse and strengthen hair follicles and stop blockages, another way to keep your hair in check.
Your unruly hair will be tamed and left smooth and shiny after using garlic. It also speeds up the production of sebum, which makes hair oily and wavy.
Garlic imparts a natural shine, and the presence of selenium in garlic helps to increase blood circulation, which in turn maximizes the body's absorption of nutrients.
Due to garlic's anti-inflammatory properties, you'll experience less breakage when brushing or styling your hair, resulting in fewer split ends. It strengthens strands so they don't break when you brush through them.
Boosts your metabolic rate.
Garlic's sulfur content boosts your metabolism and gives you extra energy.
Vitamin C, which is abundant in raw garlic, is beneficial for hair health. It increases collagen production, which in turn promotes hair growth.
What are the steps to make garlic oil at home?
There are a number of garlic oils and hair treatments that contain garlic. It is important to remember that garlic cooking oil and garlic essential oil are two completely different things. The essential oil of garlic is extremely potent, and the process of storing the extracted garlic oil often involves the addition of alcohol.
This is why a carrier oil is essential when making your garlic oil. Essential oils should be diluted with a carrier oil (also called a base oil or vegetable oil) before being applied to the skin. Mixing essential oils with carrier oils dilutes the potency and reduces the likelihood of skin irritation.
Keep in mind that any garlic oil can be very irritating to the skin and eyes due to the presence of sulfur compounds in garlic. DIY garlic oil is easy to make with common kitchen items. Garlic can cause skin irritation if applied directly to the skin, so diluting it with an oil such as coconut oil or olive oil, which is also good for hair, is recommended.
You'll need these:
8 fresh garlic cloves
Carrier oil, at the rate of 2 tablespoons per clove (or 16 total)
Knife, garlic press or blender
Small frying pan
Strainer
Garlic oil preparation
Use a knife, garlic press, or blender to crush the garlic.
Before adding the garlic, heat the oil in a pan until it is warm but not hot.
Do not overcook the garlic; instead, let it become fragrant as you swirl it around the pan.
Take the pan off the stove and set it aside to cool.
Strain the mixture and discard the pulp.
Keep the oil in a glass jar or a bottle (dark glass can prolong shelf life).
Garlic hair mask instructions.
Apply 2 tablespoons of the oil to your scalp and massage gently.
Rub your scalp continuously or cover your head with a towel for 10 to 15 minutes.
Cleanse your hair with a mild shampoo.
Do this twice a week for best results.
You can also make a garlic hair mask by mixing your homemade garlic treatment with honey and oil in equal parts and then applying it to your hair in the same manner as described above. 8 tablespoons of honey plus 8 tablespoons of oil would do the trick here.
Never try a home remedy without first consulting your doctor.
Safety concerns and potential dangers
The topical use of garlic, although a "natural" remedy, is not without potential risks and side effects. In addition, whether garlic oil or supplements are safe to use during pregnancy and breastfeeding remains an open question.
Before using any new ingredient on a large area of your body, do a skin patch test first. Rub the inside of your elbow with a small amount of your garlic hair mask, conditioner, or diluted essential oil. After 24 to 48 hours, you can assume that the garlic product is safe for your hair and scalp.
Stop using topical garlic if you experience any type of reaction, including a rash or hives. Damage from daily styling is a common cause of brittle and thinning hair, but medical issues also play a role. If your symptoms don't improve within a few days, see your doctor.
Disclaimer: This is for informational purposes only.
Did you find this helpful? Let us know in the comments.
Source: Healthline and Purplle
You can also visit our Facebook and YouTube pages to know more about plants and their health benefits.
You might also like: